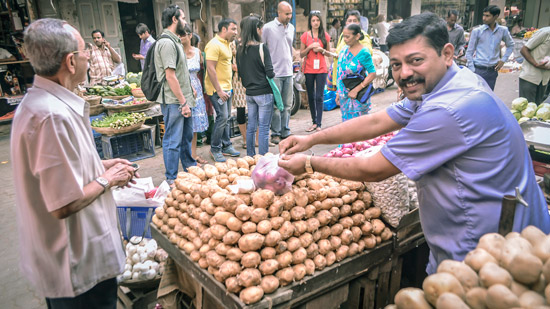 Spices play an important role in the formation of our cities and cultures, and in the experience of our urban spaces. Mumbai, in particular, is home to many known and unknown stories about spices. Join local experts in small groups around the city to explore Mumbai's local spice trails in four distinct neighborhoods.
A PDF with full descriptions of each of the trails is available for download here. Trails include:
GUJARATHI FOOD TOUR and LUNCH
by Rushina Munshaw Ghildiyal (APB Studio)
Meeting point: Grant Road Station, West entrance.
Time: 11 am—2 pm
MATUNGA MARKET WALK and SOUTH INDIAN LUNCH
by Deepa Krishnan (Mumbai Magic)
Meeting Point: Astika Samaj, Kings Circle
Time: 11 am—2 pm
LALBAUGH (MILL COLONY) TOUR and LUNCH at DADAR
by Freni Avari
Meeting Point: Bhau Daji Lad Museum Entrance
Time: 11 am—2 pm
CHAI WALK (no lunch served)
by Gargi Kothari (Tea Trunk)
Meeting Point: Oxford Book Store (Dinshaw Vacha Road, Churchgate)
Time: 1:30 pm—3 pm
The walks continue with a chai tasting at the Dr. Bhau Daji Lad Museum Lab site, followed by conversations about various spices, food and community, food and identity, and the city.
This event will be conducted in English and Hindi.
Tour leaves from the Dr. Bhau Daji Lad Museum Lab site.
This is a limited-capacity event. To reserve your place, please email bglmumbai@guggenheim.org. Reservations will be taken on a first-come, first-served basis.
Participants: Vikram Doctor and Rushina Munshaw
Photo: UnCommonSense
Related events