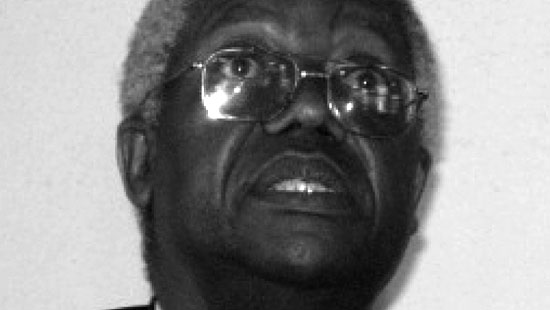 Muchadeyi Ashton Masunda is mayor of Harare, capital of Zimbabwe. He holds a bachelor of law (honors) degree from the University of Zimbabwe and is a fellow and accredited tutor of the Chartered Institute of Arbitrators in the United Kingdom.
His extensive experience in business, law, and arbitration includes 12 years as a practicing attorney, four years as the founding executive director of the Commercial Arbitration Centre in Harare, and nearly three years as the chief executive of Associated Newspapers of Zimbabwe, publishers of The Daily News and The Daily News on Sunday. He is chairman of 12 companies and director of two. He also serves on the international panel of arbitrators for the Court of Arbitration for Sport in Lausanne, and has served as chairman and/or director of a number of corporate, professional, educational, charitable, and sporting organizations in Zimbabwe.
Masunda has presented papers on local government, corporate governance, and arbitration both nationally and internationally. In March 2010 he was elected vice president for the Southern Africa region of the United Cities and Local Governments of Africa (UCLGA), and in October 2010 as co-president of the international United Cities and Local Governments (UCLG). Masunda is also a member of the United Nations Advisory Committee of Local Authorities.
Vision Statement on Confronting Comfort
Throughout my years as Mayor of Harare, I have learned a lot about how people view their city, and what comfort in their city means to them. The major elements that characterize my city are its complexity and diversity. The rest of the world is changing at a rate of knots, and the City of Harare has to move with the times. Like every other city,  it can no longer see itself or be seen in isolation, as it now belongs to a national, regional, continental, and international system of cities.
While no city is ideal, I think it is important to highlight practical and attainable goals that would improve comfort in a city. It is crucial that a city is livable, inclusive, and capable of catering for the diverse interests of its citizens. The city should not only have a master plan, but also be part of a larger metropolitan and regional plan. There should be master plans for infrastructure (power, water, sewerage, roads, and transport), for the superstructure of the city (buildings, schools, hospitals, clinics, offices, and libraries) and for a city's social services (health care, recreational facilities, and feeding programs). All these aspects need thoughtful consideration for a city and its many parts to function properly and to the benefit of its entire people.
A city should work with various stakeholders to mobilize the resources that are required to accomplish its goals and objectives. The three major stakeholders—residents, the private sector, and the central government—need to work together in a non-hierarchical but mutually supportive way. The primary objective of the city is to improve the quality of life for its citizens in areas such as urban development, the environment, housing, public transport, safety, economic, social, and cultural development. All these elements are interconnected and must work towards the comfort of every individual in the city.
Needless to say, many surveys have been undertaken from time immemorial to determine the key attributes that make a city attractive as a place in which to live and work. These include but are not limited to good prospects of employment, availability of affordable accommodation, investment opportunities for both local and foreign investors, access to health-care facilities offering affordable services, access to recreational facilities that provide affordable sporting opportunities, an efficient public transport infrastructure, educational institutions, good and efficient governance, and political stability. As Mayor in Harare, I know that all these key attributes apply with equal force to my city.  
The role of the city government is key in making the most of a competitive edge. For example, Harare has a temperate climate, which makes it possible for various sporting and cultural activities to take place virtually throughout the whole year. In other words, it is incumbent on mayors to identity the core strengths of their respective cities and then channel material and financial resources toward developing those core strengths.
It is also the responsibility of the city government to provide lucrative branding opportunities, such as through sponsorship for the arts. Since its inception in 1999, the Harare International Festival of the Arts, or HIFA, has helped to put the City of Harare on the world map, in spite of the politically induced socioeconomic meltdown that has bedeviled Zimbabwe since November 1997. During its six day annual run, the festival highlights Zimbabwean and international arts and culture through theatre, dance, music and much more. Culture and beauty are crucial to the make up of a city, and must be celebrated to its own benefit.
City government must also be accountable for reviewing the city's master plans on a regular basis with a view to adapting or amending them in order to keep abreast with trends in a fast-changing world. Among the key issues in this regard is the need to upgrade utilities infrastructures to meet the needs of a burgeoning population.
As Mayor in Harare, the most populated city of Zimbabwe, I see both the positives and the negatives of city life and its comforts and discomforts. It is a source of concern that the city's main water treatment plants are unable to meet the daily demand for potable water, but the other side of the coin is that there are millions of people ready to contribute to the inner workings of the city every single day. Our goal is to reach every single person, but unfortunately, many times, the poorest miss out on some of the basic comforts that are a right to everyone.
As already mentioned, no city is ideal, it would be utopic to think that one exists. However, this does not mean that we shouldn't try to reverse the hardships of a place and its people. No two cities are the same either, and we must always remember that each will be different in what it needs, and how the world perceives it. African cities such as Harare should not be grouped together as if they each need the same things, or have the same problems, nor should they be compared under a microscope to cities in the western world. Answers to challenges for each country as well as each city must always consider the specific conditions of that country or city.
Lastly, these answers cannot only come from one discipline or sector, and I applaud the multidisciplinary nature of the BMW Guggenheim Lab. I encourage its team members to contribute to a growing dialogue on the challenges that our urban centers face today, and to provide new ideas for our cities and their citizens.
—Muchadeyi Ashton Masunda
Photo: courtesy Muchadeyi Ashton Masunda