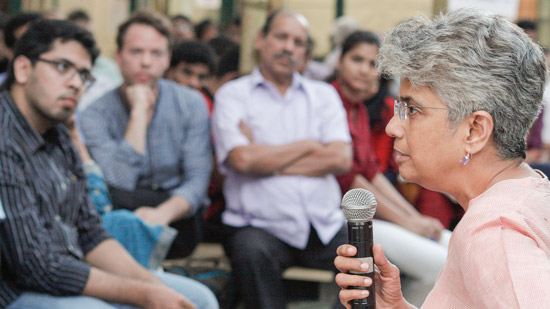 Mumbai's real estate is among the most expensive in the world. For the majority of city residents, owning or even renting suitable accommodation remains a dream. According to the provisional figures of the 2011 census, 52 percent of Mumbai residents live in informal settlements. At the same time, the city has some of the world's most expensive homes, and the last decade saw the construction of Mumbai's first gated communities. Increasingly, barriers—both concrete and psychological—are springing up around the city. Join this event to discuss how Mumbai can retain its celebrated dynamism in the face of this type of segregation.
Program series initiated by Lab Team Member Neville Mars. Hosted and facilitated by Naresh Fernandes and Sourav Biswas.
Participants: Neera Adarkar, Architect and Urban Researcher, Adarkars Associate; Alexis de Ducla, Project Head, Lafarge Affordable Housing; Matias Echanove, Director, URBZ; Avijit Mukul Kishore, Documentary Filmmaker, "Vertical City;" Rahul Srivastava, Director, URBZ; Vishnu Swaminathan, Director, Housing for All – Ashoka India.
This event will be conducted in English.
See what happened at the Mediating Public-Private Housing event—view our slideshow.
Photo: UnCommonSense
Related events